Yesterday, Newcastle United announced that Alan Pardew would be taking over as toon boss after agreeing terms. If all goes to plan he should be staying there for five and a half years, but like that's going to happen. In recent times, Newcastle sack managers faster than they hire them. But why Alan Pardew? We don't know, but I'm guessing that he was their first choice.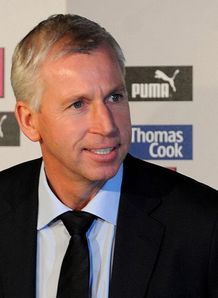 The former West Ham boss hasn't really done anything too spectacular in his managerial career (or playing career for that matter). The Newcastle board said they wanted a manager that has more experience than Hughton. That is the biggest excuse I've ever seen. You don't sack someone because they lost 3-1. If that was the case, the only thing that would be in the news is managers getting sacked.
I just think if they were going to sack Hughton, they would have got a top class manager with a couple of trophies under his belt. Instead they go, for me, for quite a mediocre choice who just got sacked by a club (Southampton) that are mid-table in League One. He is no better or worse than what they had with Chris Hughton.
You're going to have bad patches in your season. Newcastle should be happy it wasn't later on in the season if they are struggling to get out of the relegation fight. And yes Newcastle fans, last time Pardew was managing in the Premiership, he went down to the Championship and brought Charlton down with him. I'll give him a bit of slack though, he didn't have much time to gain lost ground that was caused by Iain Dowie.
Pardew doesn't have a particularly easy match to start his Newcastle career. Liverpool are travelling to St. James' Park and even though I said that they are not a top-four side anymore that doesn't mean they are not, at times, a force to be reckoned with.
I would love to hear any comments that you may have.