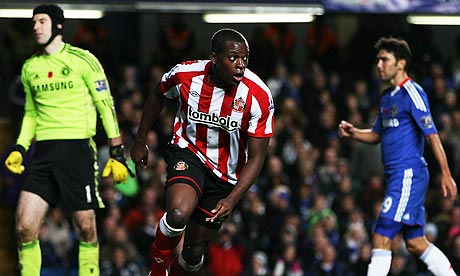 On Match Of The Day 2 on Sunday, as awful as his punditry is, Robbie Savage made a very good point that we don't give credit to the lower team when they beat the so called "Top Four". This has happened on many occasions, from when Sunderland beat Chelsea 3-0 at Stamford Bridge, to when Arsenal lost to West Brom at home 3-2. I don't think I've seen one moment where the pundit has given credit to the lower team or at least enough credit.
Ever since Chelsea, Man United, Arsenal and Liverpool were dubbed the "Top Four" it seems to everyone that they are invincible and if they lose, it's the end of the world or else it's a bad day at the office. But when has it become the case that the lower side have beaten one of the "Top Four" purely because they were the better side. The two occasions that I've mentioned, after the match Andy Gray almost insisted that it was the poor performance by one of the big four that won it for the likes of Sunderland and West Brom.
Like everyone else, I think that Sunderland just took advantage of getting a Chelsea side that are not on form, but fair play to them. Like the old saying goes "you can only beat the side that is put out in front of you" and Sunderland did just that. I am really enjoying this Premiership season, for reasons like this. The "Top Four" can't be too casual, but sometimes they show their pure brilliance like Blackburn had to find out against Man Utd. losing 7-1.
I think with the exception of Liverpool, this perception that the "Top Four" (well I guess you can call them "Top Three") can only lose to each other and no one else, will go on for many a year. I just wish people would face the fact that they don't have to win every single match and that the other teams can play a bit of football themselves.
I would love to hear your comments that you may have.