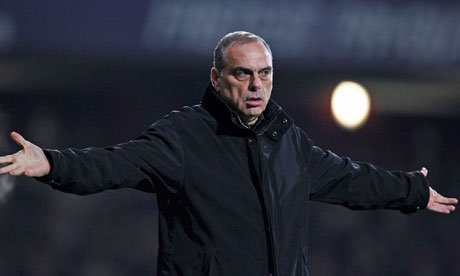 With two Premiership managers, Chris Hughton and Sam Allardyce, both being sacked within a week, is any manager safe from getting the sack? The only manager who I can think of, who more than likely won't get his marching orders is Sir Alex Ferguson. To some extent I would say Harry Redknapp and Arsene Wenger as well, unless they have a huge drop in form. The pressure is on for the managers with top teams, not just the teams in fear of being in the relegation battle.
Mancini has been convincing but some silly lost points surely must have had the owners questioning their decision to hire him last December. Another top manager for a top team who is most certainly under pressure to pick up points is Carlo Ancelotti. After such a great start, the sacking of Ray Wilkins seems to have had a big effect on their performances, and more importantly, their results.
If we are to believe what we hear, Avram Grant has three games to get his teams to winning ways or else he will be a jobless manager. In fairness, he hardly has a lot to work with. I think it's ridiculous to give a threat like that six months after you give the former Chelsea and Portsmouth boss the job. They have shown they can play a bit of football as they were unlucky to get losses against Sunderland and Arsenal, and of course the 4-0 thrashing of Man United in the Carling Cup. But watching West Ham face Man City at Upton Park, Scott Parker was West Ham, he was that influential. I don't know if that's telling us something about how good he is or how poor the Hammers actually are.
Roy Hodgson has been feeling the pressure since he arrived at Anfield but I don't think, like Avram Grant, he has had a lot to work with. There aren't many managers that could have done a better job than he's done. I'm sorry Liverpool fans, you can blame Roy Hodgson all you want but at the end of the day, when your second best central midfielder is at the caliber of Lucas, you know that you are going to struggle at times. If Liverpool did decide to get rid of Hodgson, it will only make things worse.
Who will be the next manager to go? Who knows, I don't know anyone who could have predicted the Sam Allardyce and Chris Hughton sackings. If managers have been given a fair whack at the job and it's just not working out then by all means, it's time to go. But sacking the manager after just a couple of months is just ridiculous.
I would love to hear any comments you may have.