In a shock move, Darren Bent has obviously decided that Villa Park is the place to be even though they happen to be in 17th position and no doubt a relegation battle. He left Sunderland, who are in a very respectable 6th position in the premier league with a Europa League spot very much on the cards.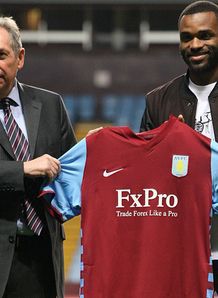 Is it me, or am I right to be slightly baffled by Bent's decision? I don't know, maybe Bent sees something that we don't. All I'm saying is that it just seems strange that he would move to a club that, very clearly, are struggling to keep their Premier League status.
Sunderland have shown some tremendous performances, most notably against a very poor Chelsea side but a 3-0 victory at Stamford Bridge none the less. They have shown quality and I wouldn't put it past them to do well in the Europa League should they qualify. Steve Bruce has put a team together, that on their day, can beat anyone in the Premiership at the moment.
Now to Aston Villa. I think it's fair to say that they have had a below-par season struggling to win games this season that they would have won with little effort last season. So obviously, like Chelsea with Ray Wilkins, the loss of staff has really affected their season as Martin O'Neill decided to take an early exit from Villa Park. Gerard Houllier has struggled to have an impact on the way that Villa have gone about their football, showing in their poor form.
So, who would you decide to play for? I think it's fairly clear that Sunderland are in the better form and position in the league, so what was the motivation for Darren Bent's audacious move away from the Stadium of Light. It does seem rather mind boggling. I think it is fair to say, that Bent hasn't been Sunderland's top dog in front of goal. For me, Welbeck has proved to be slightly more affective this season so maybe that had an affect on Bent's decision.
I would love to hear any comments that you may have.