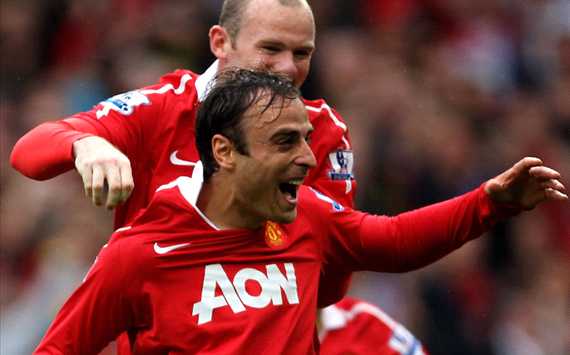 Today, Arsenal and United both leap-frogged Chelsea as they got victories in their matches today. Arsenal were victorious against Aston Villa in an entertaining match at Villa Park that finished 4-2 to the Gunners, while United ran riot against Blackburn, with the help of Berbatov, as they won 7-1.This means that nothing less than a victory at St. James' Park against Newcastle will give Chelsea top spot.
The early kick off of the day was between Arsenal and Aston Villa at Villa Park. It was a slow start to the game until Arshavin scored a fantastic goal out of nothing. Nasri then scored a first time volley with the help of a slight deflection just before half time. I'm sure Arsene Wenger didn't want deja vu from last week. They nearly did but in the end ran out comfortable winners and at times played some wonderful football. 2-4 it finished there.
Now onto Old Trafford, where Bebatov got his second match ball of the season with five goals. Once he got the first goal inside three minutes, you sensed there was only going to be one winner. Sure enough, they scored six more. Blackburn fans shouldn't be too disheartened. Maybe they made it a bit too easy, but it was more the brilliance of United that we have been waiting for this season. Now United are two points clear at the top.
I wouldn't be surprised either if they stay there because Chelsea have to travel north to a tricky match against Newcastle and we all saw what happened last weekend against Birmingham. This will be a really interesting match I think with both sides looking to get back to form after Newcastle lost 5-1 to Bolton last weekend, while Chelsea have lost three of their last four fixtures in the Premiership. If we thought the Premiership was wide open before the weekend, it definitely is now.
I would love to hear any comments you may have.