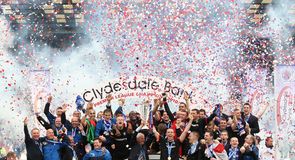 Rangers were today confirmed as the Spl champions as they thrashed Kilmarnock 5-1. Rangers went into the game knowing that the outcome of the title race was in their hands as they were a point ahead of Celtic. Both sets of fans couldn't have asked of anymore form their teams as Celtic beat Motherwell just as comfortably beating them 4-0.
It was a poor showing by Kilmarnock as Rangers were up by three just after seven minutes. They might as well have crowned Rangers champions at half time. It was an emotional day for Walter Smith as it is to be his last game as Rangers boss but he couldn't of had a better send off as his team, although helped by the quite shambolic Kilmarnock on the day, were simply magnificent. Kyle Lafferty capped of his impressive season by scoring a hat-trick, paying tribute to Walter Smith afterwards.
Although the second half of the Scottish season has been over-shadowed by death threats and parcel bombs that have been sent to Neil Lennon, not to mention the attempted attack on him midweek against Hearts, Lennon intends on standing strong and tall as he confirmed that he will remain the Celtic boss stating that "this isn't the end, this is the beginning". Although a 4-0 win wasn't enough to regain the title, the Celtic Park faithful were delighted with this news.
So even though this season will be remembered more for the Neil Lennon antics, today will definitely be remembered as we say goodbye, for now, to a legend of Scottish football and look at Lennon in admiration as he looks to stay on despite the carry on of the past couple of months.
I would love to hear any comments you may have.
If you wouldn't mind following me on twitter (@n_dj_walsh) and/or clicking the like button on the right hand side of the page, I would really appreciate it.