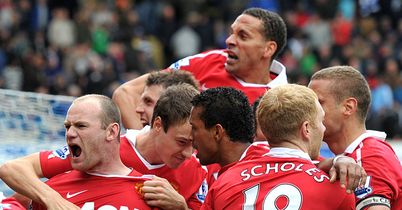 Today, Man United secured their 19th league title. By doing this, they overtake Liverpool's record of 18 league titles. I think it is fairly easy to see that the "Ferguson era" will be remembered for years to come and no doubt Sir Alex will not only go down in United but also football folklore as one of the greatest managers we have ever witnessed. Although the people of the world now know that there are two teams in Manchester and that United should no longer be considered just as "Manchester", Man United still do dominate English and will do for many years to come.
Man United went into today's game against Blackburn knowing that a point would be enough for them to bring the title back to Old Trafford. Although, it was quite a shaky start by both United and Kuszczak as they conceded after just 20 minutes. Going into the last 25 minutes or so the United fans became very impatient and to be honest they had every right. United had all the possession but just weren't making the most of it. But finally in the 73rd minute, they made a breakthrough.
After Robinson clipped the heels of Hernandez there was only one place he was going, down to the ground. After some disputing between the referee and the players of both teams, the penalty was awarded. Rooney, although looking quite reluctant, slotted the ball home.
I really fancy Man United's chances in the Champions League final now. They have, to be fair, really impressed me over the past couple of months and have a back four that any club in the world would love to have even though I am bit skeptical when it comes to the right-back position.
Their celebrations might be overshadowed as they watch the streets of Manchester packed with City fans celebrating their first cup glory in 35 years but I think by Sunday, how big a feat it is to get to 19 league titles will be realised by everyone.
So what do you think United fans? How long will this era last for?
I would love to hear any comments you may have.
Also, Football Team Talk is now on facebook so if you wouldn't mind clicking the like button just on the right hand side of the page and/or following me on twitter(@n_dj_walsh). I would really appreciate it.