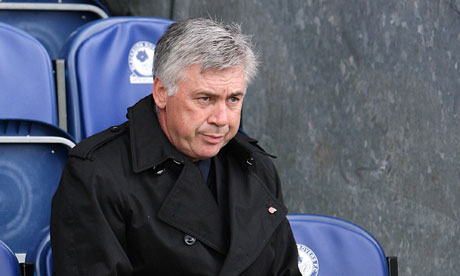 Looking back on the last two seasons, or in other words "Ancelotti's reign", I would take a reasonable guess by saying that Chelsea fans would be both impressed and comfortable with the results that Chelsea have been getting in the past two years. The Chelsea board thought otherwise and sacked Ancelotti after, if not immediately after, the Everton match yesterday. Although yesterdays game had no effect on the Premier League standings as far as Chelsea were concerned, Ancelotti didn't really help his cause as his Chelsea team lost to a Beckford goal against ten man Everton.
Ancelotti won his first piece of English silverware last season by winning the Premier League and followed it up by claiming the the club's third FA Cup in four years but I just think that the Chelsea board don't understand that you're not always going to win everything, you're not always going to get the rub of the green. And that is what happened to Chelsea this season, they didn't win any trophies partly due to the fact that they just didn't get the rub of the green on occasions.
I think it is not only mad but also ludicrous to get rid of a manager who has won you two trophies in as many seasons. Also, for me in the next season or two, Chelsea will be forced to go through a reprocessing stage and Ancelotti more than likely had ideas of who he wanted to sign this summer and now the new manager will be, more than likely, stuck with the same old, ageing, team that Chelsea have had for the past couple of seasons.
With Guus Hiddink and Marco van Basten already being declared as the favourites to get the job, it will be interesting to see what Chelsea decide to go for. The less experienced but well capable, van Basten, or the experienced and proven, Hiddink. I think Hiddink becoming Chelsea boss would be the preferred and most probable outcome.
So what do you think Chelsea fans? Did you want to see Ancelotti go? Who do you think should replace him?
I would love to hear any comments you may have.