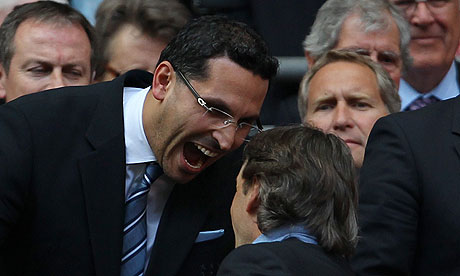 I know it is early on, but Man City have been very quiet in this transfer window thus far. It has been their rivals, Man United, who have been the more productive in the transfer window as they have added Phil Jones among the ranks and look likely to add the likes of Ashley Young and now even talk of Wesley Sneijder.
Man City, apparently, have their eye on ex-United favourite, Cristiano Ronaldo. There was talk that as long as he got the number 7 jersey, captain's armband and £400,000 a week that he would agree to join the Blue side of Manchester. Although Cristiano himself has played down these reports, I still have a feeling that the saga might carry on for a few more weeks.
There is no doubt that Ronaldo, 26, has claimed that he can't see himself leaving but if he joined for, what I believe is purely money, why can't he leave for money, it wouldn't surprise me by any means. I think he would be a great asset to a team which is already crammed with superb talent, but as a Man City fan, I would prefer if he didn't join.
Another player who is unheard of to some is Alexis Sanchez. Many clubs are interested in the Chilean and of course City are among them. Barcelona were believed to have been the main threat but reports suggest that Man United might spoil the party as the Glazer's seem to have found a few extra quid in their back pocket as their Summer spending spree looks to carry on.
Alexis Sanchez is currently at Udinese as is bound to move to a big club, well Man City aren't quite yet at the big club status, even I'll admit that but either way a move to Manchester looks increasingly on the cards. Sanchez has been compared to Ronaldo, coincidentally can play both on the wing or in a more attacking position. Unlike Ronaldo, I would very much welcome the move of Sanchez, but, if he comes in, that means the likes of Adam Johnson will be pushed out.
With Boateng all but gone and talk of Tevez leaving always on-going, surely City will complete the signing of a player some time soon.
What do you think? Will City sign either Ronaldo or Sanchez?
I would love to hear any comments you may have.
Please, if you wouldn't mind, click the "like"button on the Football Team Talk facebook page. Thank you.