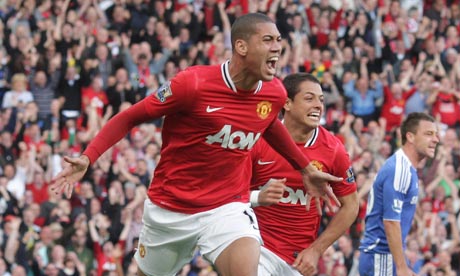 Man United proved yet again that they are truely the team to beat as they, relatively comfortably, beat Chelsea at Old Trafford yesterday. In doing this, they now have a two point advantage as Man City slipped up against Fulham.
Man United have been simply breathtaking to watch and each and every signing over the Summer seems worth the investment, although a few performances similar to yesterday from keeper de Gea are probably needed to make him worth the £18 million or so that United paid for him.
The current United team look as if they have been playing together for many seasons with years of experience but it's hard to forget that the average age of the squad is just 25.
Although the score should have been 3-2 if the Torres of old was playing, Man United never looked under threat for a good period of time. If Man United are to play with the same passion and speed, it's hard to see any team stopping them as they charge on in their pursuit to claim their 20th league title.
Manchester City however could not hold on to a 2-0 lead at Craven Cottage as Fulham clawed their way back to earn a point. This will probably lead to questions surrounding City's ability to close out matches. If Man City are to have any chance of winning the league, letting a lead slip will have to become extinct.
I'm sure all of you may think that Man United have got the league pretty much wrapped up, but there is inevitably further twist and turns to occur during the season and quite literally anything could happen.
So what do you think? Can Manchester United be stopped?
I would love to hear any comments you may have.