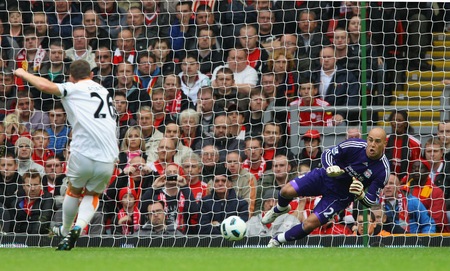 With all the hype surrounding Nasri and Fabregas in regards to which club they will be playing their trade with next season, it was easy to forget about the transfer saga regarding Charlie Adam's future. Well we were all reminded about it today as Liverpool and Blackpool have agreed a fee for the Scottish international to bring him to Anfield. Charlie Adam will now have a medical and if all goes well, no problems should occur.
Charlie Adam has been a target for Liverpool ever since he shot to fame playing with Blackpool last season. He, with no disrespect to any Blackpool player, carried their team to within minutes of avoiding relegation. Their is no doubt in my mind that he should be playing his football in the Premier League and I'm sure he will fit nicely in the Liverpool set up.
Liverpool are building a strong looking squad in preparations to reclaim fourth spot and see themselves playing European football once again. With the arrival of Henderson and now with Adam looking likely to join him, the competition to be starting in midfield will be fierce. To be honest, I can see players starting to strop should they be excluded from the starting eleven.
I worry for Liverpool's defence though and I do feel they should look to bring in a top quality defender, same with Arsenal. For me Johnson is slightly over-rated and talisman Jamie Carragher isn't getting any younger.
Their attacking line up is only bettered by very few, with Gerrard and Henderson in midfield. Also on top of that you have the, in-form, Suarez along side Andy Carroll. It does look like a frightening prospect when they do eventually meet the weaker teams but coming up against the likes of Man United and Chelsea, they could be vulnerable at the back.
Liverpool are showing no sign of stopping there either. The signature of Stuart Downing is another possibility but yet again another midfielder so I don't know if the plan is to play six or so in midfield but I'm sure "King Kenny" has thought it through.
What do you make of the recent signings that Liverpool have made? Will Adam be a success?
I would love to hear any comments you may have.
Check out
www.footballscores.com
today for all the latest scores, results and league tables.