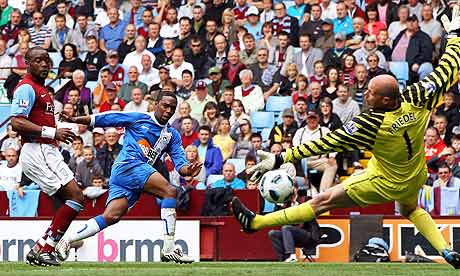 Aston Villa are looking to buy Charles N'Zogbia off Wigan after Liverpool's interest for Downing showed no signs of dying down. Aston Villa have already rejected a £15 million bid from Liverpool but are bracing themselves for an improved offer of around £18 million in the next coming days. Aston Villa have come out and said that will not sell Downing for less than £19 million but we'll see what happens when £18 million is put in front of them.
With the prospect of losing two valuable widemen in Young and Downing, Aston Villa have decided to turn their attention on Charles N'Zogbia. I highly rate N'Zogbia and it would make perfect sense for Villa to buy the Frenchman, whether or not Downing is still at the club. N'Zogbia is one of those players that won't have a perfect game every week, but he can certainly make things happen.
Personally I believe it would be the right choice to sell Downing when Liverpool come in with a new and improved offer. Even if it doesn't meet their evaluation of the player, I certainly believe they will be getting value for money should they get £18 million or so.
The last thing Villa need is for Downing to be unsettled and unhappy should he still be at the club come the start of the season. Aston Villa fans aren't happy as it is with the arrival of Alex McLeish and I'm sure the selling of Ashley Young didn't please a few fans either. Surely, the thought that a player refuses to play in front of the Villa Park faithful, when millions of pounds could have been gained from selling him, would only annoy the Villa fans even more.
With the money they got for the departure of Young plus the possible amount they could get for offloading Downing would give McLeish and Aston Villa vasts amount of money to spend on players that are just as valuable an asset.
So do you think Villa should sell Downing? Would N'Zogbia be a suitable replacement?
I would love to hear any comments you may have.
Please click the "like" button on the Football Team Talk facebook page. Thank You.