Arsene Wenger has hit out today insisting Theo Walcott will remain at Arsenal despite constant rumors suggesting a move away in January is on the cards. Arsenal take the risk of selling Walcott, 23, for nothing in the summer as his contract is due to run out.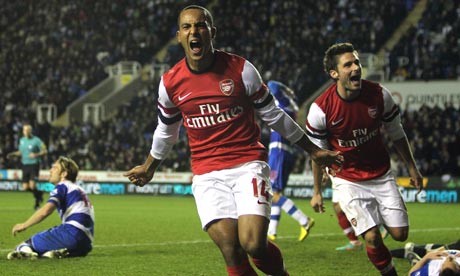 Contract talks have been held up, leaving, I could imagine, many Arsenal fans worried. Although rather inconsistent for me, he is a threat on any given day if he just puts his head down and gets the bounce of the ball.
Reports suggest though that Walcott had rejected a 5 year deal worth £75,000 a week. Walcott is believed to rest his future on whether or not he plays in a striking role.
I think Arsenal should do just about anything to keep Walcott as long as its within reason. I say this because it's obvious he's improving technically as a footballer and if you add that to the bundles of pace he has the results are frightening.
So what do you think? Is Walcott making a bigger hassle than he's actually worth?
Feel free to leave any comments you may have.