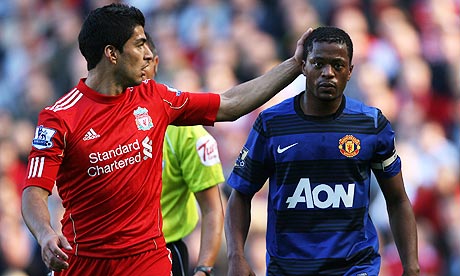 Luis Suarez has toinght been given an eight match ban after allegedly racially abusing Man United left back, Patrice Evra. It is believed that on more than one occasion, Suarez called Evra "negrito".
Luis Suarez, 24, has been prolific for Liverpool this season, being their main man as Steven Gerrard has been hit by injuries since the start of the season.
This lengthy ban comes as a surprise to many and I'm sure this will also come as a shock to John Terry who now must be assuming the worst after he said a few naughty words to Anton Ferdinand as Chelsea lost to QPR way back in October.
Liverpool now have to rely on Andy Carroll or either play Craig Bellamy in a more central role and hope he can find the same form he found when playing with the likes of Newcastle and West Ham.
Andy Carroll, I think it is fair to say has been a bit of a shambles since moving to Merseyside but perhaps this could be his chance to be a Kop hero.
Who knows what was said, but I think the FA have made it very clear that they won't accept any racial abuse and of course I believe that this is the correct thing to do.
What do you think? Is eight matches too much? Can we expect Liverpool to appeal?
I would love to hear any comments you may have.